Spring 2019 Registration is Open!
Some Summer 2019 Registration is Open!
More coming soon!
How to Register for Classes
Online Accounts
For your convenience, CDE offers our members an online account. Families can utilize their account to register for classes, view and print schedules, track absences and makeups, hold credit card information, register for events and more!
Where to Register
Returning Members: Use the Parent Portal Login
New Members: View class registration below where you will find our schedule organized by day of the week.
How to Register
 Find the class that you would like to register for. Click the word "Register" listed to the left of the class name.
Fill out the form (asterisks are required) you may choose additional classes and/or add siblings.
A credit or debit card is required in order to register.
In the event that a class is full, you will see "Waitlist" instead of "Register." To be placed on the waitlist, click on the waitlist button and proceed. You will be required to enter your payment information. However, no payment will be collected unless a spot becomes available. At that time, you will be notified of the opening.
Tuition
CDE uses a sliding scale to calculate tuition. Add the amount of time per student, per week and slide to the right to find the monthly tuition rate.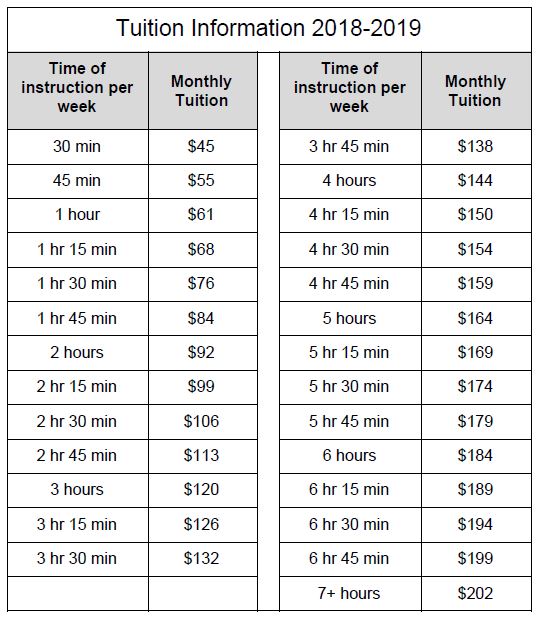 Payments
Pay the full year's tuition at time of registration and receive a 5% discount. Payment must be made by August 31, 2018.
We accept VISA, MasterCard, AMEX or Discover and all monthly tuition will be charged via AUTO-PAY. Upon enrollment, the credit card on file will be charged the membership fee and May 2019 tuition. You will receive a confirmation email detailing your exact amounts.
Monthly tuition will be processed on the 7th of the month. You are required to keep a current card on file in your portal. If you prefer a different form of payment (cash, check) your payment must be received prior to the automatic charge date of the 7th. If not received by the 7th, your required card on file will be charged the amount outstanding. If you elect not to participate in AUTO-PAY, you must also complete the "Auto Pay Removal Form" below.
Tuition is not pro-rated for absences or studio closures. Students are encouraged to attend makeup classes for classes missed.
Membership Fees and last month tuition, May 2019, are NON-REFUNDABLE.
Total tuition is determined by the total amount of time your dancer receives instruction per week. To determine family tuition, total each individual's tuition, add the amounts together then take the sibling discount. Sibling Discount: 10% off for 2nd student; 15% off for 3rd student.  (example: Child 1 takes 2 hours: $89, Child 2 takes 1hr: $58 minus 10%, Child 3 takes 45 min: $52 minus 15%. Total is $185.40 per month.
Thank you for your interest!